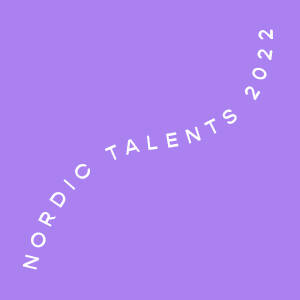 Call for entries open!
Application deadline 1 June 13.00 CEST.


Nordic Talents 2022
A Nordic network is essential for the industry - Nordic Talents is the place to meet!
Nordic Talents is an important platform for talent scouting and networking across the Nordics. Within an informal and including atmosphere Nordic Talents builds bridges between upcoming talents and established audiovisual professionals.
When: 7-8 September 2022
Where: The National Film School of Denmark, CPH
PITCH COMPETITION FOR NORDIC GRADUATION STUDENTS
Don't miss the opportunity to kick-start your career by pitching your project idea in front of a professional jury and key-decision makers at Nordic Talents. We select 15 projects to pitch and compete for our two development funding awards of NOK 250,000 and NOK 50,000!
Who can apply:
Nordic film- or TV students (writers, directors, producers etc.) graduating with a BA- or MA degree during the period August 2021-June 2022.
We require that the applicant graduates with a film or visual production.
Applicants may apply alone, or in teams of two as long as both have graduated during the eligible period and are involved in the project.
Schools

Among the Nordic schools we accept applicants from are: The National Film School of Denmark, The Animation Workshop (Animation, Graphic Storytelling), ELO Helsinki Film School, Tampere University of Applied Science (Film production), Turku University of Applied Science (Film and Animation), ARCADA University of Applied Science (Film), The Norwegian Film School, Westerdals (Film & TV), INN University - TV Skolen (TV-regi), Volda University College (Animation and Documentary), Nordland kunst- og filmfagskole (BA moving images), Stockholm University of the Arts, HDK Valand.
Nordic students graduating from other Nordic or international schools at this level are also welcome to apply.
Conditions to apply:
Max 2 applications pr. applicant/team.
The project must be in development.
The application and all written info must be submitted in English. Graduation films with English subtitles.
If selected, we require that the applicant is able to clear the rights/give permission so we can screen the graduation film at the event and on our Vimeo showcase in connection with the event. Only registered participants will have access to the showcase.
If selected, it is mandatory to attend both a two-day pitch training prior to the event (5-6 Sept.) and the event (7-8 Sept.).
What kind of projects are eligible:
Feature length films (fiction, documentary, animation, hybrid)
Series (fiction, documentary, animation, hybrid)
How and when to apply:
We will announce the call for applications in due time before the application period.
The online application form is open on our website from 10 May.
Deadline to apply is 1 June 13:00 CEST.
Checklist

For the application we require the following information in English. Films and visual material must have English subtitles.
Applicant information: name, e-mail, mobile, school.
Who will pitch if selected: name, e-mail, mobile, graduation film title and preview link, function.
Short info on key crew, your motivation for making this project (max 150 words)
Project information: title (local and English), category, genre, length in mins/number of episodes/length pr. episode, target audience, tagline (max 15 words), short pitch (max 40 words), short synopsis (max 300 words), visual style of the project (max 100 words), development plan (max 300 words), initial marketing and audience engagement strategy (max 150 words), preliminary time schedule, estimated production budget amount.
Optional additional project information (to be uploaded): detailed synopsis (max 2 A4 pages), visual material (max 4 A4 pages / link/password to watch visual material on e.g. Vimeo)
Information about your graduation film: title (local and English), category, length (in mins)/number of episodes/length pr. episode, short synopsis (max 80 words), names of the crew, a still from the film (min. 700 kB), link/password to screener (work in progress is accepted at the time of application)
Note: we reserve the right to print parts of the application in our online catalogue if you are selected to pitch.
ABOUT NORDIC TALENTS

Program
Pitch Competition
Graduation film screenings

A producer's pitch, in which professional producers introduced themselves and their companies

Networking

A case study or master class (TBC)
Award Ceremony
Former winners
This is the 22nd edition of Nordic Talents! Since the start in 2001 many gifted graduation students have presented their projects on stage. Of these, several have made their way to the big screen, others are in development.
Among the former Nordic Talents' award winners (and projects) are: Erik Richter Strand (Sons), Lisa Munthe and Helen Ahlsson (The Arm-wrestler from Solitude), Marja Pyykkö (Run Sister Run), Runar Runarsson (Volcano), Jan Rahbek (Marco Macaco), Karzan Kader (Bekas), Antti Heikki Pesonen (Headfirst), Maria Bäck (I Remember When I Die), Hlynur Palmasson (Winter Brothers), Gustav Møller and Lina Flint (The Guilty), Fanni Metelius (The Heart), Thora Lorenzen (Absolute Beginners), Teresia Fant (Stories from the Shower).
Jury and Awards
A Jury of industry professionals will select the winners and hand out two prizes - The Nordic Talents Pitch prize (NOK 250,000) and The Nordic Talents Special Mention (NOK 50,000). Both prizes are development funding given by Nordisk Film & TV Fond.
Who can attend the event

Recently graduated Nordic film- or TV BA- or MA students (2021-2022).
A limited number of next year's graduation students can attend as observers (2022-2023).

Nordic industry professionals like producers, financiers, distributors and others who are looking for new talent and networking opportunities.
There is a limited number of seats. To attend you must register. Registration will open mid June.
Practical information

The program will be held in English.
Films will be screened with English subtitles.

Nordic Talents is free of charge.

All meals served at the Film School are included.
Payment at the bar only by Danish cash or MobilePay. Credit cards are not accepted.