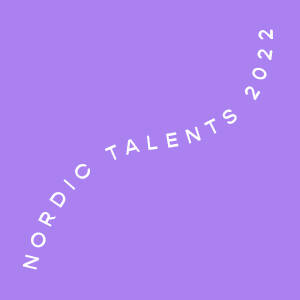 Registration deadline 2 September 2022



Nordic Talents 2022
A Nordic network is essential for the industry - Nordic Talents is the place to meet!
Nordic Talents is an important platform for talent scouting and networking across the Nordics. Within an informal and including atmosphere Nordic Talents builds bridges between upcoming talents and established audiovisual professionals.
When: 7-8 September 2022
Where: The National Film School of Denmark, CPH
ABOUT NORDIC TALENTS

Program
Pitch Competition
Graduation film screenings

A producer's pitch, in which professional producers introduced themselves and their companies
Award Ceremony
Former winners
This is the 22nd edition of Nordic Talents! Since the start in 2001 many gifted graduation students have presented their projects on stage. Of these, several have made their way to the big screen, others are in development.
Among the former Nordic Talents' award winners (and projects) are: Erik Richter Strand (Sons), Lisa Munthe and Helen Ahlsson (The Arm-wrestler from Solitude), Marja Pyykkö (Run Sister Run), Runar Runarsson (Volcano), Jan Rahbek (Marco Macaco), Karzan Kader (Bekas), Antti Heikki Pesonen (Headfirst), Maria Bäck (I Remember When I Die), Hlynur Palmasson (Winter Brothers), Gustav Møller and Lina Flint (The Guilty), Fanni Metelius (The Heart), Thora Lorenzen (Absolute Beginners), Teresia Fant (Stories from the Shower).

PROGRAMME HIGHLIGHTS - JURY
Nordic Talents' centre piece is the FILM GRADUATES PITCH COMPETITION whereby 15 pre-selected projects from graduating Nordic writers, directors and/or producers will be vying for the NOK 250,000 Nordic Talents Pitch Prize and NOK 50,000 Special Mention Prize.

Three of five prominent film & TV professionals sitting on this year's jury have been confirmed:
Danish actress and director Charlotte Sieling (Margrete-Queen of the North, The Bridge, Borgen, Homeland)
Swedish producer and director David Herdies, founder of Momento Film (Madame Luna, Bellum, Tiny Tim: King for a Day, Transnitra)
Finnish producer Ilkka Matila, co-founder of MRP Matila Röhr Productions (All the Sins, The Eternal Road, Mother of Mine).

"It is an honour to be invited to the jury of this acclaimed event," said Matila. "It's thrilling to see how filmmaking in our territory is evolving, and to get to know the works of the next generation of Nordic talents."

Herdies added: "I am truly honoured to be invited as part of the jury for the Nordic Talents! For me, following the early steps in talents' careers is one of the true passions of my work as a producer. I love to meet new directors and writers who are exploring their unique voices, finding their own paths and who are challenging me in my own perception of what films and audiovisual worlds can be. I'm especially looking forward to attending this year's edition as I think Nordic talents are booming right now!"
Nordic Talents' other highlight - the PRODUCERS' PITCH will be the opportunity for 8-12 Nordic producers to engage with new talents, in a reverse pitch exercise.

For the first time, the Producers' Pitch will be held on the Thursday afternoon (September 8), before the awards ceremony, to allow more time for producers to outline their company's DNA, type of projects that they are looking for, and support offered to rising talents.
The session will be moderated by Noemi Ferrer, DR Sales Executive Director.

To sign up for the Producers' Pitch, producers are invited to contact Nordic Talents organiser Tina í Dali Wagner: nordictalents@nftvfond.com
Nordic Talents will be held for the 22nd time. This year's line-up of competing projects from graduating students will be announced June 24.



Who can attend the event

Recently graduated Nordic film- or TV BA- or MA students (2021-2022).
A limited number of next year's graduation students can attend as observers (2022-2023).

Nordic industry professionals like producers, financiers, distributors and others who are looking for new talent and networking opportunities.
There is a limited number of seats. To attend you must register. Registration will open mid June.
Practical information

The program will be held in English.
Films will be screened with English subtitles.

Nordic Talents is free of charge.

All meals served at the Film School are included.
Payment at the bar only by Danish cash or MobilePay. Credit cards are not accepted.
Contact: Tina í Dali Wagner | Project Manager Nordic Talents | nordictalents@nftvfond.com | +45 40409829