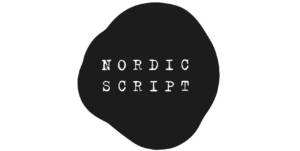 The Nordic Script application form is now closed.
Nordic Script 2023 - 2024
Are you looking for new angles to your own writing or to script writing in general? Are you eager to learn more from other Nordic and international professionals? Are you interested in a year-long networking with Nordic peers?

These writers' labs will focus on films and closed-ended mini series.

WHAT WE OFFER
The three labs will be held by Nordic mentors, each coaching a smaller group through all labs. The labs are provided by Nordisk Film & TV Fond, with co-founding partners City of Helsinki, Gothenburg Film Festival and Oslo Series Days/NRK.

Nordic Script will also offer sessions and masterclasses with international guest lecturers and accreditation to partner festivals.
Participants answer for their own travel expenses (accommodation and transportation).

WHO CAN APPLY
Nordic scriptwriters who have participated in minimum one produced project (episode(s) of drama series or feature length film)
Nordic scriptwiters who will have minimum one fiction film/mini-series in development, to work on during all three labs.
Story editors, producers and/or commissioners with professional experience, who want to learn more about scriptwriting processes.
HOW TO APPLY

The application language is English.
Include a motivation letter, your CV, material from your film/mini-series and a recommendation letter
Remember to have all required documents ready when applying
Submit your application: CLOSED.
We will get back to all applicants before mid June.
WHEN AND WHERE

The annual training workshops are due to unfold at the following events and locations:
1st workshop in Oslo, Norway, mid-September 2023.
In partnership with Oslo Series Day.
2nd workshop in Göteborg, Sweden, early February 2024
In partnership with the Gothenburg Film Festival.
3rd workshop in Helsinki, Finland, mid-June 2024.
In partnership with The City of Helsinki.
Masterclass in Aarhus, Denmark, 3rd November 2023.
In partnership with THIS Aarhus.

MENTORS
The three prominent Nordic writers and story mentors from Nordic Script 2022 - 2023 Adam August (Follow the Money 3, Cry Wolf), Maria Clauss (All that is Left, Top Dog 2) and Margrete Soug Kåset (Mammon 2, Monster, Himmelblå) have been confirmed for the 2nd edition of Nordic Script.


Read about Nordic Script 2022 - 2023: CLICK HERE.